naked on the vague, rose turtle ertler, pure evil trio, the garbage & the flowers,
eric kuhlmann, vialka, winner, kiosk, doddodo, gulpepsh, on/ox
and uber lingua multi-lingual DJ's raceless and mashy p.
---
vialka(9:50pm start):Marylise Frecheville - percussion & voice / Eric Boros - guitar & voice.Eric Boros (Erik Boros¹) began his musical career as a school-band trumpetist at a young age. Since then he has performed many times in many different "nation states" around the globe, and has participated in a wide variety of phonographic recordings - despite having crumpled his trumpet a long time ago in a fit of rage. For his work with different ensembles he plays stringed acoustic and electric guitars, while producing complex operatic "sounds" with his own voice. Although he lives without electricity, or any modern appliances (other than his solar-powered shortwave radio), he is a completely un-skilled electrician, and has used this "un-skill" to construct electronic gadgets to generate accompaniment frequencies to his symphonic pieces. Boros has been living in seclusion on an island, but travels regularily by kayak for Vialka repetitions and tours. He is a breath-air-ian, book reader, practicing pacifist, and tea-drinker.
Marylise Frecheville was put on stage when she was three years old and became addicted to it. It is a matter of intestine regulation you see. After classical training in dancing, singing, drama and piano, she joined her first "rebel-without-a-cause" teenager garage band in 1993, where she played keyboards, sang out-of-tune, and eventually beat the skins. So now instead of building cathedrals, running after rabbits, or boozing until brain failure, she performs in various ways; constantly pushing insanity and constipation further away. Vialka is her latest baby, it shouts, it cries, it laughs, it whines - oh no! - it shit itself again, but it is still the most beautiful in the world. By the way, Marylise likes the little thing so much that she made a cartoon and movie of it; a story to actively remember the beginning of the millenium in which we are all going to die from severe screeningitis.
---
gulpepsh(11:40pm start) is quite simply the yamatsuka eye of beatboxing, his vocal styles are so complex he would make joel turner wish he called his band the modern day dipshits! you will not believe he is just a man with a microphone, vocal chords, esophagus, tongue and lips! doddodo(11:10pm start) delivers her own brand of kawai casio-spastic melodies interlaiden with hoe-down blip-gabber beats
---
Playing her ukulele through various FX pedals, rose turtle ertler (6:30pm start) demonstrates the versatility of the little four stringed Hawaiian instrument through her strange pop songs. Rose has been playing her solo act since 2000 and has toured to Europe (Belgium, Holland, Germany) twice. She is currently based in Melbourne where she is a member of MUK (Melbourne Ukulele Kollective).Rose is also organizer of Ukulele Land - annual ukulele concert in Sydney & iscurrently researching for a book she is writing about ukulele players in Australia.
---


KIOSK(8:30pm start) ARE BRUTAL. KIOSK HAVE EMERGED FROM PUBERTY. KIOSK BREAK HEARTS. KIOSK HAVE PLAYED SHOWS/ TOURED WITH THE UNICORNS, COBRA KILLER, THE BLOOD BROTHERS,IKARA COLT, GERLING, PINK GREASE, LIMITED EXPRESS, DIE!DIE!DIE!, HAWNAY TROOF, THE COOLIES, IRON LUNG, MOVING>UNITS + + + MORE KIOSK ARE PLAYING WITH ELECTRELANE NEXT MONTH. KIOSK HAVE A DEBUT 7" CALLED 'GROWING PAINS' WHICH IS SHIT HOT. OUT ON ARTSCHOOLDROPOUT. (WWW.ARTSCHOOLDROPOUTRECORDS.COM)..... KIOSK ARE PUTTING OUT A SPLIT VERY SOON WITH DIE MONITR BATSS (WWW.MYSPACE.COM/DIE MONITR BATSS) ............ON GASH FLOW (WWW.MYSPACE.COM/GASHFLOW)........ -------------------------------------------------------------------------------------------------- KIOSK ARE FASHION QUEENS + INTERNATIONAL JETTSETTERS WHO RUIN PEOPLE'S LIVES. X X X -----------------------------------------------
---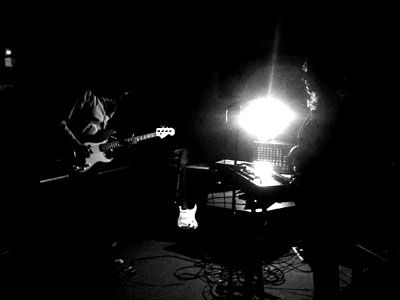 In early 2005 Naked on the Vague (9:10pm start) was born from a rundown bedroom with an organ found on the street, a borrowed drum kit, a bass guitar stolen from Vincent, and some 'dear cliche' doom poetry...
Lucy Cliche (keyboards, vocals, tom drum, tamborine, drum machine, bass), M.P. Hopkins(bass, vocals, tom drum, mouth organ, drum machine, keyboard)

---
originnally from wellington new zealand garbabge and the flowers (7:10pm start) were internationally revered with releases on various US labels. they moved to australia in the early 90's before breaking up. original memebers helen johnstone and yuri frusin have reformed the group in recent years with australians stu olsen and not sure who else.
---
eric kuhlmann (5:50pm start) the highly priased singer songwriter from adelaide who's insightful observations on men who love me who love women has been described as a thinking mans carly simon.
---
WINNER (10:40pm start) have won the right to prevail in a world of crap cover bands, they have secured the rights not only to sing these shitty songs they sing but to own them as well and no jury in the world would give these songs back to the so called original artists once they have heard WINNER realise them for what they should have been in the firstplace.
---
pure evil trio (4:30pm start)100% evil, noisy beast, with a load of bone-quaking low-end sound gruesome racket.
---
ON/OX (5:10pm start)nice young lads from brisbane
---